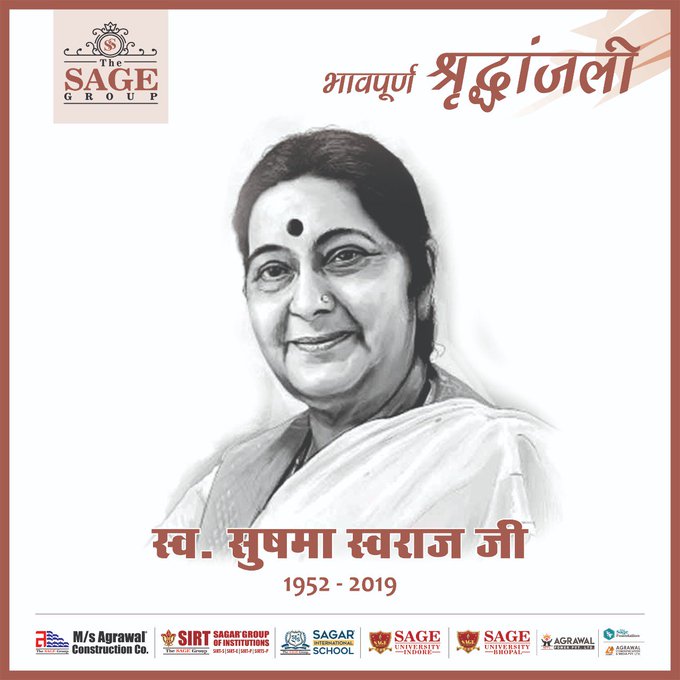 #SushmaSwaraj #RIPSushmaJi
"A glorious chapter in Indian politics comes
to an end."
We at The Sage Group pays tribute
to the woman who was a mother figure
to millions of Indians.
Rest in peace Sushma Swaraj.
Awarded As
Covid Hero
THE SAGE GROUP
Today News 18 Mp/Cg recognized 'The COVID Heroes"
and We are Proud that CMD The Sage Group and
Chancellor Sage University Indore and Bhopal Er. Sanjeev Agrawal
is amongst the few who helped thousands of people to fight these hard time.
The SAGE Group
is a parent firm of various companies such as Agrawal construction co.
Sagar Group of Institution
, which includes 5 colleges and 2 schools in it.
SAGE university
, situated in Indore,and Bhopal
Agrawal Power Pvt. Ltd
.The SAGE was not built all of sudden, it took years, where one by one brick added to its foundation and then over the years Agrawal succeed to project
The SAGE
in front of the world. The SAGE owns a range of residential sites, with the name of
Agrawal Construction Co. wherein over 12,000 families are living in over 30 sites. And Is one of the best group in Bhopal to work. The beautiful and lavish range of residential sites is named as
Sagar Green Hills
,
Sagar Pearl
,
Sagar Eden Garden
,
Sage Suncity
and many others There are many people who are just a businessman, but Agrawal stands beside them because of the personality he is, an influencer, a spiritual person, a thinker, a giver and many others.
Due to these traits, he is touching all the glory and his paying back to society thinking lead him towards education where he decides to give the best gift to society and indeed there is nothing great than giving education to one. Finally, in 2003,
The SAGE
puts the foundation of its first educational institution SIRT (Sagar Institute of Research and Technology), being an engineer himself Agrawal choose to open an engineering college and give young power a platform to learn and prove themselves.
SIRT
offers over 50 courses and till now over 50,000 students have enrolled themselves in the prestigious engineering institute of Bhopal. Later to that,
The SAGE
added more feathers to its cap and introduced more colleges such as SIRT-S (Sagar Institute of Research, technology and science), SIRT-E (Sagar Institute of Research and technology- excellence),
SIRT Pharmacy
and
SIRTS Pharmacy
.
The whole purpose of education is to turn mirrors into windows, and Mr Sanjeev Agrawal understands it very well, which became the reason that he established a whole university in 2017 in Indore with the name
SAGE University
. The aim of establishing the university is to abridge the skill gap of the youth so that it is well equipped to deliver services as professionals or as entrepreneurs and contribute constructively to the economy of our country. SAGE UNIVERSITY offers many courses in the various field of learning such as engineering and technology, management, journalism and mass communication, law and many others
The powerful, visionary and enthusiastic entrepreneur refused to stop challenging his fate and sharp business mind, thus in 2007, along with his childhood friend Anupam Pandit, he inaugurated
Agrawal Power Private Limited
.Sage International School (SIS) is among the top schools in Bhopal and also the most distinguished schools of Bhopal. It is a dream maker in the pursuit of excellence where the high academic expectations are fully met. Sage International Schools (SIS) which stand as top 10 CBSE schools in Bhopal Now the company has become one of the leading companies dealing in engineering and power distribution network projects in Madhya Pradesh and Chattisgarh. With this prodigious success, Mr Sanjeev Agrawal set a new benchmark for others and project how a great sense of business led you to prestige.Apart from all this Sanjeev Agrawal also owns a media and communication firm, with the name Agrawal communication and media private limited, established in 2008, this firm made a huge impact and witness a success by designing creative bus shelters with back lit display and state-of-the-art traffic signals.
---
Every builder can sell you a home, but few of them can give you the best services, and Agrawal Construction co. is doing it in the most perfect manner.

Sagar Landmark has everything for me and my family. The amenities here are so good, we love spending our evening time in the open park, which is the best part of the day.

When I landed in Bhopal – India after 12 years with kids, it was not easy to find a suitable school, as it is all the new environment for my children. My son Vedant doesn't know Hindi, but the teachers of SIS are very supportive and now things have become easy for him. We are proud to be part of the SIS Family.

Sagar International School is an amazing school with a great environment for studies. The best part of school is the big play area for children and the safe transportation facility. I think that my child is very fortunate that he has the most supporting teachers. Thank you SIS.

I have learnt a lot of things in SIRT. The management provides the best facilities to the students. All the lectures are taken care of by learned faculties. Not only academics but other activities like sports, cultural events etc are also organized here which is like the cherry on a cake.

I am very glad to share my experiences and glimpse of memories that I had in my academic session. I joined SIRT in the year 2016. SIRT is an amazing place for learning where students can learn, groom, flourish, explore and develop their talents and potentials. Apart from academics, I like this because there is a well-furnished library where all new technical books and journals are available, as I am a book lover, hence it is my favourite place to spend my leisure hours.
---